Post Books

For over a decade, Post Books publishing house has been determined to produce books of high quality to satisfy all readers' needs, disseminating knowledge, social trends, and information about the world. In so doing, it makes reading an enjoyable experience while offering avenues to self-improvement in a variety of ways.
The publication of over 400 books has been well received by readers. This is consistent with the division's goal of forming a loyal customer base. To this end, the division is developing several channels by which customers can access its varied products. Here the aim is to develop and produce books with good content that is valuable to readers in that they can use it to improve the quality of their lives.
The publisher remains aware of its role in society to record history through books, and aims to ensure that people can access information with which they can improve themselves as well as society while deriving long-lasting happiness from the reading experience.
In 2018, the publisher continued offering promotions and stimulating distribution by hosting various events that were well received by readers. The team focused on selecting books for publication that match demand and trends in the market. The division published a total of 13 books in 2018, including five best-sellers. Most notable were books on business, finance, investment, and self-improvement. These included: "Cryptoassets: The Innovative Investment", a Thai translation version; "Working with the Walking Dead", a Thai translation version; and "Property Is a Girl's Best Friend". There were also books about history, society, culture, psychology, and language as well as biographies. These included "Look at the Chopsticks, See the Bamboo Forest Vol. 4", "Really Easy English News", and "No Money Is Not a Big Deal, But No Heart Is Nothing". The books "Genghis Khan" and "Hau Fung Liao Yuan Wai Zhuan Vol. 7" found popularity among both Thai and international readers. Moreover, the division republished some books that have continued to be popular beyond their original print runs, including "Getting Things Done: The Art of Stress-Free Productivity", a Thai translation version; "The Wild Chronicles IV – The Promised Land"; "Padiwaradda", and "Nakee 2".
In 2019, the publisher will continue to focus on selecting good content. It will produce books and develop quality work with the aim of expanding knowledge in Thai society. This will be accomplished through print media and online media alike. It will also involve such activities as academic seminars promoting knowledge,
short self-improvement courses, and various entertainment activities. The division will also continue to develop its online book distribution channels in order to reach more readers with greater ease and convenience. The result will be better reading experiences and access to more knowledge for the general public.
Updated: End of 2018
Product
Bangkok Post Group publishes inexpensive pocket books focusing on the following areas:
Works by Thai authors, especially winners of the Seawrite Award
Translations of foreign books.
Buddhist Dhamma books.
Popular business books.
Books by Bangkok Post Group authors (Bangkok Post, Post Today, Magazines, Student Weekly, Readbangkokpost.com)
Overview of business:
Concept: Pockets with a large readership.
Positioning and Readers: Upscale, high quality readership. Kind of like Matichon, where the present editor hails from.
Differentiation: High quality intellectual content that also sells well.
Post Books Online www.postbooksonline.com
Popular Business Books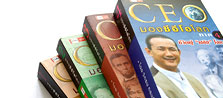 CEO by Wikrom Kromadit
First volume sold 80,000 copies, second volume sold 50,000 copies.
Translations of Foreign Books
Rueng Rak Khong Rao [All about us]

translation of the best-selling memoir by young Taiwanese author Huang Yuan on the redeeming power of love. (255 baht).

Astrosaurs

translation of a best-selling series on dinosaurs traveling in outer-space (110 baht).

Cheewit Nee Fah Likhit [The Drunkard's Way]

a book that explains the science of probability and risk to non-scientists by scientist Leonard Mlodinow (250 baht).