Post Books

The company's printing business has published more than 500 titles since its inception in 2008. These include both works of fiction and non-fiction. The diverse topics range from business, investment and personal development to history, entertainment and literature. Post Books carries products in both Thai and English.
In 2019, Post Books sought to help local readers stay ahead of the digital game by launching the Thai translation of Digital Darwinism: Survival of the Fittest in the Age of Business Disruption by Tom Goodwin.
The author is a columnist for TechCrunch, Forbes, The Guardian, GQ, Ad Age, Wired, Ad Week, Inc, MediaPost and Digiday. He is also the Executive Vice President and Chief Innovation Officer of Zenith Media, USA. Mr Goodwin was voted one of the Top 10 Marketing People by LinkedIn and is one of the 30 "must follow" personalities on Twitter by Business Insider and Fast Company. The title has been well received by readers.
Another popular release was Why Save the Bankers? by Thomas Piketty, author of top-selling book Capital in the Twenty-First Century.
In addition, Post Books reinforced its successful niches of Asian and Western wisdom mining philosophy and history as applied to modern management and contemporary lifestyles. One of 2019's highlights was Ten Lectures on the Art of War by Huasan. The book's author spent more than 20 years studying Sun Tzu and conducting a detailed analysis of The Art of War. Others included Look at the Chopsticks, See the Bamboo Forest Volume 4 written by Chinese history buff Nithipan Wisprawit, and Hua Fung Liao Yuan Wai Zhuan, a best-selling novel series set in China.
Post Books is currently stepping up its online platform to reach young readers and make the reading experience even more convenient.
Updated: End of 2019
Product
Bangkok Post Group publishes inexpensive pocket books focusing on the following areas:
Works by Thai authors, especially winners of the Seawrite Award
Translations of foreign books.
Buddhist Dhamma books.
Popular business books.
Books by Bangkok Post Group authors (Bangkok Post, Post Today, Magazines, Student Weekly, Readbangkokpost.com)
Overview of business:
Concept: Pockets with a large readership.
Positioning and Readers: Upscale, high quality readership. Kind of like Matichon, where the present editor hails from.
Differentiation: High quality intellectual content that also sells well.
Post Books Online www.postbooksonline.com
Popular Business Books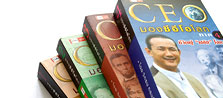 CEO by Wikrom Kromadit
First volume sold 80,000 copies, second volume sold 50,000 copies.
Translations of Foreign Books
Rueng Rak Khong Rao [All about us]

translation of the best-selling memoir by young Taiwanese author Huang Yuan on the redeeming power of love. (255 baht).

Astrosaurs

translation of a best-selling series on dinosaurs traveling in outer-space (110 baht).

Cheewit Nee Fah Likhit [The Drunkard's Way]

a book that explains the science of probability and risk to non-scientists by scientist Leonard Mlodinow (250 baht).