CORPORATE SOCIAL ACTIVITIES
Consistently committed to the principles and practices of good corporate governance, the Bangkok Post Group continued to engage in a number of corporate social responsibility activities throughout 2019. In addition to encouraging employee participation and nurturing social responsibility among stakeholders, these initiatives build good relationships with the general public and promote the company's sustainable success.
Blood Donation – Four Companies Together Bangkok Post Public Company Limited, together with Shell Company of Thailand Limited, Colgate-Palmolive (Thailand) Company Limited and Loxley Public Company Limited, organised the "Blood Donation for Royal Charity". The Bangkok Post hosted the activity at Bangkok Post Building on 14 February 2019.

Calendar Donation for the Blind Bangkok Post employees donated desktop calendars to make braille. Representatives of the company delivered the calendars to the Thailand Association of the Blind on 20 February 2019.

"Career Market" Activity On 2 June 2019, the company co-hosted a "Career Market" activity with Loxley Public Company Limited and the social enterprise "a-chieve". Various organisations also joined, including Bangkok Post Public Company Limited, Muang Thai Insurance PCL, Shell Company of Thailand Limited and YIY Music Sharing Foundation. Volunteers representing over 60 careers shared their experiences directly with over 500 children at career clinics and workshop booths.

"Buddy Pony Tales" Activity Bangkok Post Group employees participated in a volunteer activity "Buddy Pony Tales", held by Loxley Public Company Limited and Thai Polo and Equestrian Club Pattaya. The activity took visually disadvantaged youths from the Foundation for The Blind in Thailand under the Royal Patronage of H.M. the Queen to have new experiences with horses, during 22-23 June 2019, at the Thai Polo and Equestrian Club Pattaya, Chon Buri.

Lent Candle Procession Bangkok Post Public Company Limited, together with Shell Company of Thailand Limited, Colgate-Palmolive (Thailand) Company Limited, and Loxley Public Company Limited, led a ceremonial candle procession on the occasion of Buddhist Lent Day, on 11 July 2019, at Wat Klong Toey Nai.

Merit for Patients at Phrabatnampu TempleBangkok Post Group employees donated consumer products to help patients at PhrabatnampuTemple. Staff representatives presented the items to Chao Khun Alongkot on 5 July 2019 at Loxley Building.

Cosmetics for Society Cleo Thailand donated all proceeds from selling cosmetics to Bangkok Post Group employees to 13 foundations, namely Home For Handicapped Animals Foundation; Ban Kru Chao Foundation; Queen Sirikit Centre for Breast Cancer Foundation; Stray Dogs Care Foundation Phutthamonthon; Kao Kon La Kao Foundation; Foundation for Children with Disabilities; The Mirror Foundation; Arthorn Prachanana Fund Phrabatnampu Temple; Rajavithi Hospital; Queen Sirikit National Institute of Child Health; Foundation for The Blind in Thailand under the Royal Patronage of H.M. the Queen; Priest Hospital; and Ramathibodi Hospital. Representatives from Cleo Thailand donated the funds in June 2019.

Plastic Bottle Donation for Monks' Robes Bangkok Post Group employees donated Polyethylene Terephthalate (PET) bottles to participate in the recycled monks' robes manufacture project. The bottles were donated at Wat Chak Daeng, Song Khanong Sub-district, Phra Pradaeng District, Samut Prakan Province, on 12 July 2019 and 23 September 2019.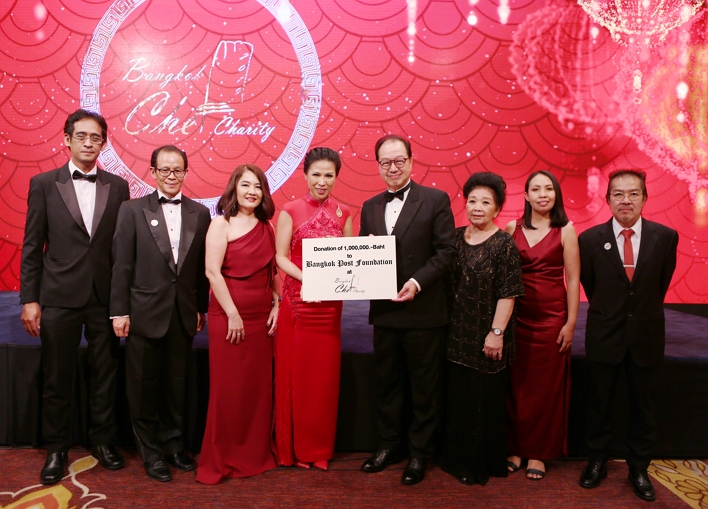 BANGKOK POST FOUNDATION
Established in 1982, Bangkok Post Foundation has provided education scholarships for hundreds of needy Thai students across the country. Currently almost 300 students are receiving support, ranging from primary to university levels.
Each scholarship is granted on a need basis. Many of the students are from broken homes and all are in dire financial need. The only criteria for scholarships is a dedication to study and learn.
Scholarships are provided unconditionally to each student for each term up until university graduation. We ask nothing from the recipients, save that they use the opportunity to improve themselves and, if possible, contribute back in some way to assisting their communities and broader society.
Funding for the scholarship comes through generous donations received from Bangkok Post readers and partners as well as through charity events organised every year. All donations received go entirely towards funding the scholarships, with no deductions made for administrative costs or expenses.
There were 25 graduates at the end of academic year 2019. Two of them graduated with distinctions in medicine and nursing. Two of them graduated with merit in medical technology and agriculture.
In 2019, the Bangkok Post Foundation organised several fund-raising events. Donations were received from the Bangkok Chef Charity, 73rd Anniversary Bangkok Post Forum 2019, Bangkok Post International Mini Marathon 2019 and Sathorn Square Vertical Fun Run 2019 organised by Golden Land Property Development Plc. Donations were also received directly from kind readers and others who purchased the Foundation's cotton bags in supporting the campaign to stop global warming.
The Bangkok Post Foundation is our way of making a meaningful contribution to the betterment of Thai society. By helping children in need, we hope to improve our country's future.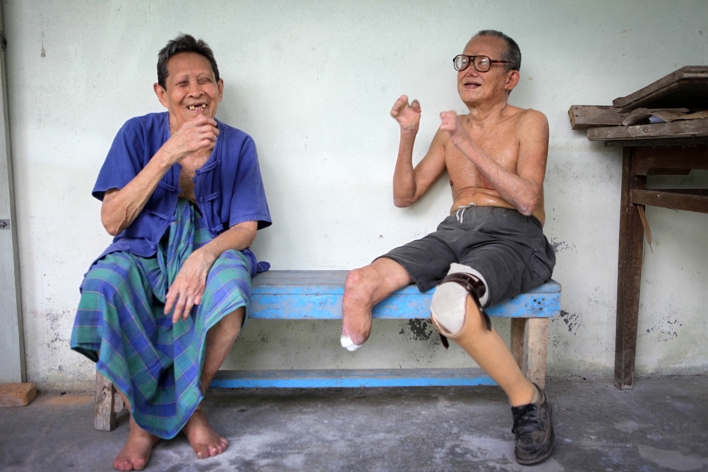 PHUD HONG LEPERS FOUNDATION
Phud Hong Lepers Foundation under the patronage of the late Queen Rambhai Bharni was established in October 1982 under the chairmanship of Mr. Prasit Lulitanond. The aim of the foundation is to care for leprosy patients at Phud Hong Lepers Colony in Ron Phibun District of Nakhon Si Thammarat province and to train them to look after themselves for the rest of their lives.
The colony was established with more than 1,000 patients but each year an average of 6-10 die from natural causes. At present there are 100 elderly patients aged between 60 and 90 under the care of the Phud Hong Lepers Foundation. There are 15 severe, bedridden cases who need special care and attention. Some have HIV or diabetes.
Through the Don Bosco Development Centre, located in the vicinity of the colony, Filipino missionary nuns take care of patients with funding from the Phud Hong Lepers Foundation.
Donations mainly come from Bangkok Post readers. In 2019, charity activities helped provide food supplies, essential medical supplies and other daily necessities as requested by patients through an arrangement with the Filipino missionaries.
As a result of tropical storm Prabuk hitting Nakhon Si Thammarat in late 2018, parts of the patients' wards were damaged. In 2019, funds were raised to cover the cost of repairs.
Phud Hong Lepers Foundation continues to care for leprosy patients and contribute to the needs of society.