Our businesses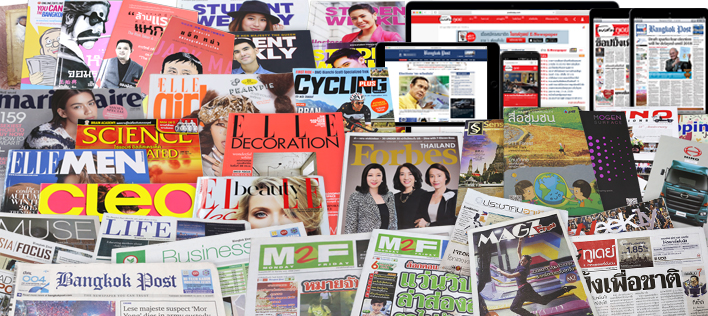 Nature of Business
Bangkok Post Plc., which marked its 72nd anniversary in 2018, is the publisher and distributor of: the Bangkok Post, the oldest newspaper in Thailand; Post Today, a Thai-language, business-oriented newspaper; and M2F, a free Thai-language weekday newspaper focusing on news and lifestyle features.
Since its founding in 1946, the Bangkok Post Group's news and information publishing business has grown steadily, through various strategic initiatives to expand its media channels, activities and services in both Thai and English. Our goal is to expand our penetration and reach to domestic and international customers, including:
Through its subsidiaries – Post International Media Co., Ltd. and Bangkok Post-Bauer Co., Ltd. – the Group publishes and distributes Thai editions of popular international magazine titles covering business and social news, fashion, home decoration, lifestyle and travel, such as Elle, Science Illustrated, Forbes Thailand and Cleo.
The Group publishes M2F, a free daily Thai-language weekday newspaper aimed at urban professionals and office commuters in Bangkok.
Mushroom Group Co., Ltd. produces multimedia and video content for television and digital media, for markets in both Thailand and the region.
Information services delivered through a variety of subscriber-based digital media platforms and applications, in English and Thai for local and international readers. The Group also offers information services through a variety of social media platforms catering to the changing needs and demands of consumers, whether through desktop computers, tablets or mobile devices.
The Group's book publishing arm, Post Books, publish a wide variety of books, including best-selling international titles translated into Thai, English titles written by our own reporters and columnists, and fiction and non-fiction books written by prominent local authors. Topics include business & management, technology, history, biographies, and art & culture.
The Group's commercial printing business offers general printing services to various government and business organisations.
Bangkok Post Plc. aims to continuously grow and develop its business through the development of print and media platforms, products and services, with the goal of expanding its audience and readership. The Group's mission remains to be the leading multi-media publisher and distributor in Thailand, based on its longstanding position within the Thai media industry as the 'most trusted source' of news and features.
Updated: End of 2018