Bangkok Post International Forum 2018, Asian Transformation: THE CHANGING LANDSCAPE
Wednesday November 21, 2018
Bangkok Post organised Bangkok Post International Forum 2018, Asian Transformation: THE CHANGING LANDSCAPE on 21 November 2018, at the World Ballroom, 23rd floor Centara Grand & Bangkok Convention Centre at CentralWorld.
The forum took the theme "Push EEC to connect the world… Thailand hopes to help the entire region grow."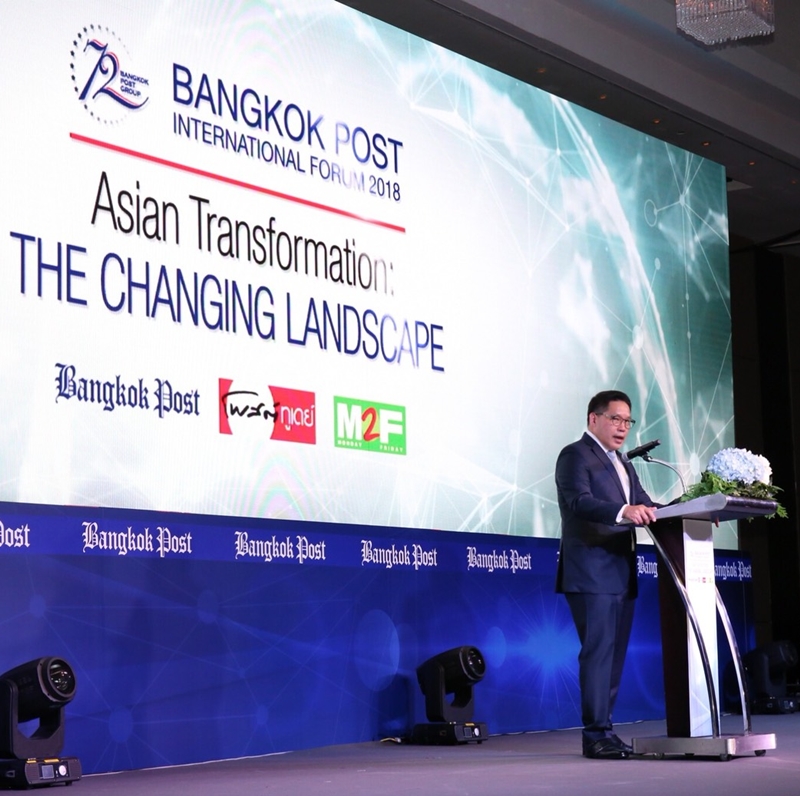 Mr. Uttama Savanayana, Minister of Industry, said he was confident that the EEC project and Thai election would help the economy grow next year. He said that the economy would continue to recover and that EEC would expedite the final curve.
Discussing Thailand's transformation under the 20-year national agenda at the Bangkok Post International Forum 2018, he said that the Thai economy will continue to recover from next year. In fact, he said it has already begun to recover this year due to the clear election arrangement and East Economic Corridor (EEC) development factors.
In addition, EEC promotes the growth of the Asian economy and the global economy. He said he is studying the possibility of expanding the EEC space to support investment and linking the new economic areas of Thailand such as the Bio Hub area of the north.
"EEC will be one of the projects that helps transform ASEAN because it is an important strategic point as a logistics centre linking all activities in the ASEAN region. This project is not only designed for Thailand but also for Asia and the world. Currently, EEC is in the process of developing major infrastructure to support future economic activities," Uttama said. He emphasised that ASEAN must increase interconnections to overcome challenges in transition through the global economy.
Mr. Phichet Durongkaveroj, Minister of Digital Economy and Society (DE), said DE has set the framework for digital development of the region through the ASEAN Digital Master Plan in 2019 in five 5 areas: 1. intelligent city development 2. cyber ​​security development 3. linking in the ASEAN region through an underwater cable project 4. regional cooperation, set up a framework to protect information together 5. linking people and society.
Mr. Somkid Jatusripitak, Deputy Prime Minister, revealed that after the intensive investment meeting with 18 large state-owned enterprises in the last quarter he ordered the Ministry of Finance and Communication to consider and immediately support large state-owned enterprises with projects ready for investment. He said this would help the whole year GDP grow by 4% according to the goal, so long as the economy grew 3.5% in the last quarter.
Mr. Prapas Kongdead, Director of the State Enterprise Policy Office (SEPO), concluded to allow state enterprises to accelerate disbursement of investment budget not less than 95% in accordance with the Cabinet resolution.