Celebrating seven decades of the 'Post'
Friday January 01, 2016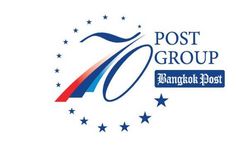 Post Publishing and the Bangkok Post newspaper celebrate our 70th anniversary this year. As the oldest newspaper in Thailand, our role remains unchanged since the first, four-page edition rolled off the presses back on 1 Aug 1946.
For seven decades the Bangkok Post has sought to serve Thai society by telling stories, explaining what they mean and, where possible, predicting what will happen next across a broad spectrum of political, economic and social issues.
We have also sought to inspire debate, discussion and commented on crucial issues and trends -- both good and bad -- as Thailand grew, developed and changed.
We have also sought to educate and entertain. The Bangkok Post has embraced the internet; digital and social media. This means our reach far exceeds our printed circulation.
And no matter what changes occur in the future, the Bangkok Post will continue to serve our readers in a fair and balanced manner without an agenda. We will continue to be honest, admitting and correcting mistakes which may and do occur.
Since 2000, the Post Group has built on the success of the Bangkok Post and grown as a group. To date the Post Group comprises three newspapers, eight magazines, and digital and television programming.
Apart from the Bangkok Post, the Post Group's products are Post Today, our Thai-language-business daily, M2F (Monday to Friday), our mass-circulation free tabloid with an audited circulation of 600,000 copies, and Student Weekly.
Our magazines include Elle, Elle Decoration, Elle Men, Cleo, Marie Claire, Forbes Thailand, Cycling Thailand, Science Illustrated and Post Books. Post TV and Mushroom produce news and variety television programming.
But our role goes beyond news, analysis, commentary, editorials and information. As an organisation the Post Group has sought to give back to Thai society through the Bangkok Post Foundation.
Our foundation, established in 1982, has provided educational scholarships to over 500 needy Thai students across the country. It will be 34 years old in 2016.
Currently, 236 students are receiving support. To date 60 have graduated from university. This funding comes from readers' donations and charitable events that we organise each year.
As we celebrate our 70th anniversary this year, we would like to take this opportunity to thank all our readers and supporters for their trust and support, the source of inspiration for us to continue our role in serving Thai society for many more decades to come.
We would also like to wish all our readers and supporters a very Happy New Year.
May 2016 bring joy, contentment, good health and prosperity.

The first edition: A four-page newspaper hits the streets, Aug 1, 1946