Post partners with Wall Street Journal
Monday December 09, 2019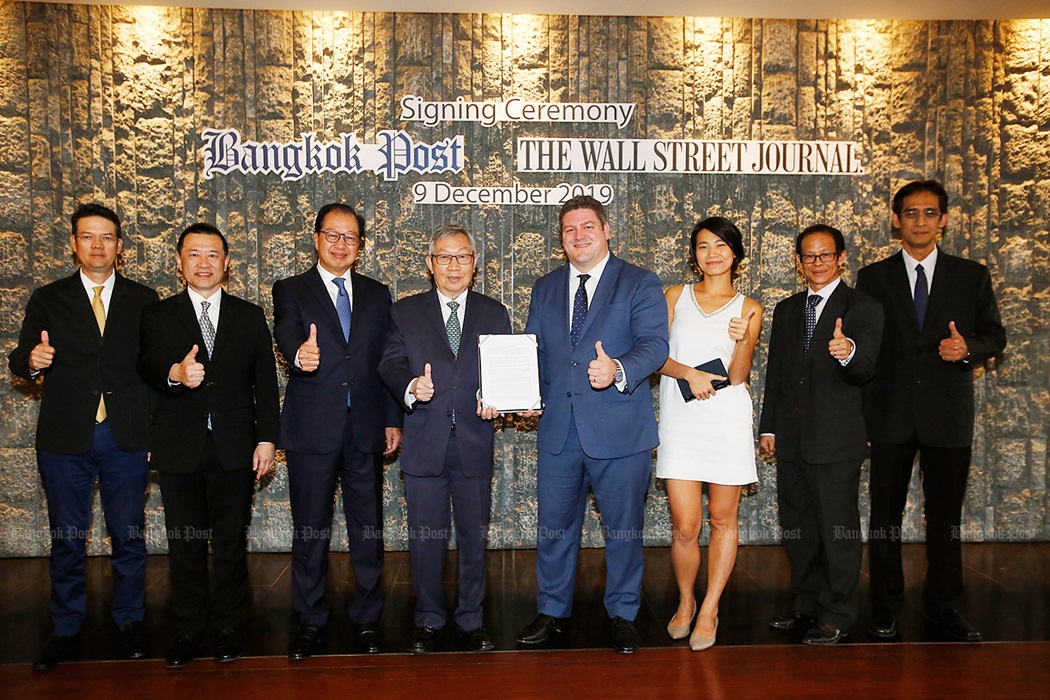 Suthikiati Chirathivat, 4th left, chairman of Bangkok Post Plc, and Jonathan Wright, 4th right, global managing director for Dow Jones and the Wall Street Journal, hold a partnership contract after the signing ceremony at Centara Grand at CentralWorld. The ceremony was attended by Thirakiati Chirathivat, left, executive director of Bangkok Post Plc; Ek-Rit Boonpiti, 2nd left, executive director of Bangkok Post Plc; Worachai Bhicharnchitr, 3rd left, Bangkok Post Plc's vice-chairman; Esme Choi, 3rd right, Asia Pacific manager of Commercial Partnerships, Dow Jones; Chiratas Nivatpumin, 2nd right, acting COO of Bangkok Post Plc and Soonruth Bunyamanee, right, the Bangkok Post's editor. (Photo by Pornprom Satrabhaya)
The Bangkok Post has joined the Wall Street Journal in a three-year partnership to help bring some of the world's most insightful articles and analysis to local readers.
Suthikiati Chirathivat, chairman of Bangkok Post Public Company Limited, said the partnership solidifies the Post's commitment to delivering the best news and information to readers.
"The Bangkok Post is Thailand's oldest and most respected newspaper. With this partnership, we are now joining hands with one of the most established newspapers in the world," he said.
From next month, the Bangkok Post will publish a page of curated articles and features from the Wall Street Journal every Monday to Saturday in the business section.
Subscribers of the print and e-paper editions of the Bangkok Post will also be given the opportunity to sign up for a digital membership to the Wall Street Journal under a special promotion.