Chairman of Post raises shareholding
Wednesday June 24, 2015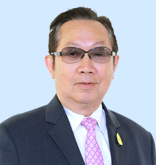 Suthikiati Chirathivat
Suthikiati Chirathivat, chairman of SET-listed Post Publishing Plc, has added another 5.5% to his stake in the company, raising his holding to 24.7% and making him the largest shareholder.
"I've increased my stake because the company, especially the Bangkok Post newspaper, is an institution in the Thai media industry that I firmly believe in," he said yesterday.
Mr Suthikiati, also chairman of Post's executive committee, said the deal was sealed for 27.5 million shares or 5.5% at seven baht apiece for a total of 192.5 million baht.
Shares of POST, the publisher of leading daily newspapers Bangkok Post, Post Today and M2F, last traded on Monday on the SET at 7.35 baht, in trade worth 192.5 million baht.
Mr Suthikiati becomes the largest shareholder with 24.72%, up from 19.22% before.
The stake of Hong Kong's SCMP Group, the share seller and publisher of the South China Morning Post, has now been diluted to 14.78% from 20.28%.
The third-largest shareholder is Com-Link Co with 11.2%, followed by Worachai Bhicharnchitr at 7.27% and Bangkok Bank at 3.69%.
Mr Suthikiati pointed out that he had been a director of the Post for 33 years.
"I have long been associated with Post Publishing, starting with the Bangkok Post," he said.
"Post has grown since 2000, adding two newspapers and the free tabloid M2F, which expanded quickly and now has a daily circulation of 600,000.
"The Bangkok Post celebrates its 69th anniversary this August. I want our newspapers and media to continue the tradition and their role as conveyors of fair and balanced reporting and analysis and inspiring commentary."