Post Publishing renamed to branch out
Friday April 28, 2017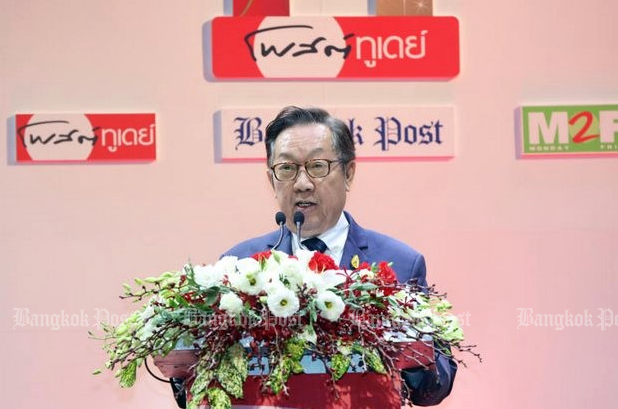 Chairman Suthikiati Chirathivat of the renamed Bangkok Post Plc says the company is 'an institution within Thai society'. (Photo by Seksan Rojjanametakun)
Post Publishing Plc shareholders on Thursday approved a name change for the company to Bangkok Post Plc to reinforce the company's strategy to move beyond newspaper publishing.
POST chairman Suthikiati Chirathivat said the name change heralded the next step in the company's evolution beyond print publishing to digital, television, multimedia and other media.
He said the Bangkok Post, now in its 71st year, is the company's oldest newspaper and has a repository of knowledge unmatched by any other media company in the country.
POST, which also publishes the Post Today and M2F newspapers, Student Weekly and a host of leading magazines such as Forbes, Elle and Cleo, has more than 300 journalists with deep knowledge and insight of the country's economic, social and political scene.
"The Bangkok Post isn't just a newspaper," Mr Suthikiati said. "The Bangkok Post is an institution within Thai society, with a strong brand. Renaming the company to that of our flagship publication will only help reinforce the company's values and commitment to quality content."
Chokdee Wisansing, POST's chief operating officer for newspaper operations, said the company's business strategy rests on five key pillars, starting with producing credible, accurate, reliable and actionable news and information content.
POST must also enhance its digital platform to meet the needs of all readers, while also broadening its partnerships with leading companies to achieve "win-win" solutions, he said.
The fourth pillar is POST's maintenance of high efficiency and productivity as an organisation, while the fifth pillar is human development and ensuring the company remains an employer of choice.
Shareholders at Thursday's annual general meeting also approved the reappointment of four directors retiring by rotation. Reappointed were Mr Suthikiati, Supakorn Vejjajiva, Ek-Rit Boonpiti and Russell Leighton Kekuewa.