Post launches Thai edition of 'Forbes'
Wednesday June 05, 2013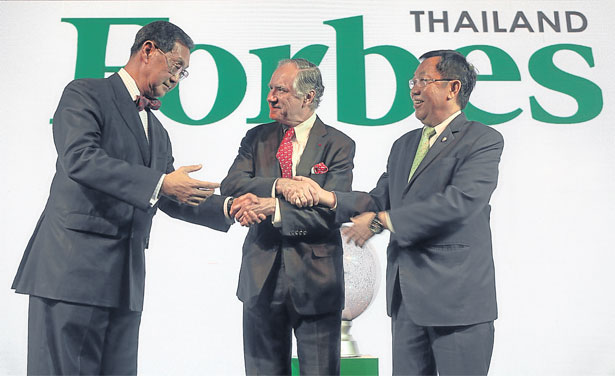 Dignitaries shake hands at the launch of Forbes Thailand at the Centara Grand Hotel yesterday.From left, Post Publishing Plc chairman and former Bank of Thailand governor MR Pridiyathorn Devakula;Christopher Forbes, vicechairman of the Forbes Publishing company; and Suthikiati Chirathivat, director and chairman of the Executive Committee of Post Publishing Plc
Post Publishing Plc has launched Forbes Thailand magazine at a time of growing economic opportunity driven by upcoming regional integration.
Supakorn Vejjajiva, Post Publishing's president and chief operating officer, said at an event marking the launch yesterday that this was an opportune moment with the region's economies continuing to integrate and grow.
As the 2015 establishment of the Asean Economic Community (AEC) nears, the Thai-language Forbes Thailand, published by the Post's subsidiary Post International Media, is aimed at meeting the growing demand from local entrepreneurs for solid business intelligence.
Forbes Asia chief executive officer William Adamopoulos said Forbes views Thailand as a key growth market within Asia. Forbes has a circulation of 400,000 copies per month across 17 countries in Asia, he said.
Forbes Publishing Co vice-chairman Christopher ''Kip'' Forbes said the magazine's uniqueness stemmed from its features on business leaders and focus on job creation and business opportunities.
Forbes's keys to success range from having a skilful researchteamandbuilding relations with local distributing part demand from local entrepreneurs for solid business intelligence.
At the launch, Pridiyathorn Devakula, a former finance minister and central bank governor, said Thailand stands to be the greatest beneficiary of the AEC.
''Among all Asean members, Thailand is the champion of consumer product manufacturing. Look around you, things that you use from head to toe, day and night, they are made in Thailand,'' said MR Pridiyathorn, who is chairman of Post Publishing.
Thai companies such as Siam Cement Group, Mitr Phol and Thai Union Frozen Products have in recent years expanded their overseas presence to become global producers, he said. MR Pridiyathorn added that the creation of the AEC in 2015 would help bring about the expansion of more local firms abroad, particularly to less developed neighbouring countries offering lower production costs, and offer up opportunities for growth in new markets.
''A new supply chain within Asean may emerge, and this will help nurture the industrialisation of less developed nations in Asean. With this, all countries will prosper together andmutually benefit from the fruit of integration,''he said.