Post Publishing mushrooms
Tuesday July 21, 2015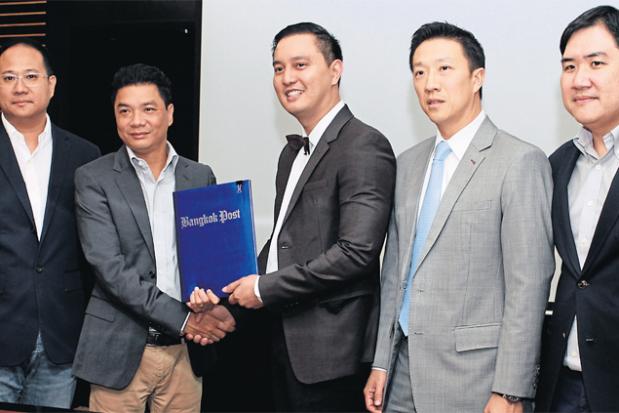 From left, M.L. Dhanavisuth Visuthi, Managing Director of Post TV, Supakorn Vejjajiva, Post President, Akarat Nitibhon, Managing Director of Mushroom, Phongdathon Chatnarat, Deputy Managing Director of Administration of Susco, and M.L. Poryot Kalyanavongs, Managing Director of WE Bangkok.
SET-listed Post Publishing Plc, publisher of the Bangkok Post, Post Today and M2F newspapers, will acquire a 51% stake in medium-sized TV content provider Mushroom Television Co in a bid to reinforce its TV business.
The Post's board approved the 153-million-baht investment in Mushroom because of the latter's good financial track record and future business synergy, said Suthikiati Chirathivat, chairman of the board.
The 11-year-old Mushroom has expertise in TV content production in many areas — tourism, entertainment, food and lifestyle, and business.
Post's print media also includes magazines such as Elle, Cleo and Forbes Thailand, the content of which can be transferred to TV.
Mushroom has floated the idea of establishing a business training institute with Forbes Thailand, while Cleo's content can be transformed into a TV format for female viewers.
Post can help to promote Mushroom's programmes through its media outlets, said Mushroom managing director Akarat Nitibhon.
Mushroom now produces 10 TV programmes for various channels as well as commercials. Last year, the content producer generated 100 million baht in revenue, up from only 6 million when it started in 2004.
Its annual net profit is about 15% of revenue.
The financial benefits of collaboration between the two are expected to be clearer in the fourth quarter.
Mr Akarat said the partnership would help Mushroom's revenue, projected at 200 million baht this year, to reach 500 million in three years, when the company hopes to list on the Market for Alternative Investment to broaden its business opportunities.
Post chief operating officer Supakorn Vejjajiva said the collaboration would be a good business strategy, as broadcasting sees growth each year while the print media continues to slide.
This move will help put Post in a good position once digital TV establishes itself, he said. The company now produces three live programmes for digital TV.
"Becoming a content provider is a very good move for us," said Mr Supakorn.
POST shares closed on Thursday on the SET at 7.20 baht, up 90 satang, in trade worth 44,000 baht.