Post snapper bags best photo
Friday March 06, 2015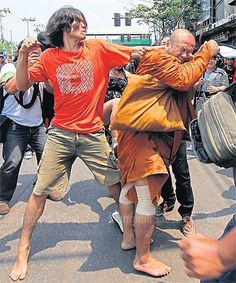 This main picture entitled 'I'm not involved', taken by Bangkok Post photographer Thiti Wannamontha won the top prize at the Isra Amantakul Awards yesterday.
The Bangkok Post has won best photo at this year's Isra Amantakul Awards.
The photo, entitled "I'm not involved", (or Atama Mai Giew) taken by Post photographer Thiti Wannamontha, won the Photo of the Year over five shortlisted images in the final round for the prestigious award.
The picture was taken on March 24, 2014 in front of the National Anti-Corruption Commission office in Nonthaburi, where a group of red-shirt members led by People's Radio for Democracy leader Sornrak Malaithong, staged a protest against the graft-busters' decision to charge then-prime minister Yingluck Shinawatra for her role in the rice-pledging scheme.
Phra Prat Supavirun, from Kalasin, was assaulted by protesters who mistook him for an anti-government sympathiser.
"The attack continued with a woman urging fellow protesters to disrobe the monk," recalled Thiti, who was covering the rally.
"Everything happened very fast and it was difficult to take the photo with so many people surrounding the monk."
First prize earned him 50,000 baht in cash and a statuette.
Another photo, entitled "Flee" (or Nee), taken by Thanarak Khunton, won an honorary mention.
The awards were presented at a gala dinner hosted by the Thai Journalists Association at the Amari Watergate Hotel last night, to mark Reporters Day.