POST will bolster TV content
Saturday April 27, 2013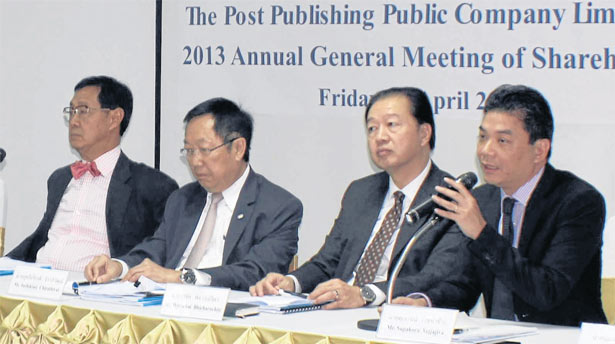 From left are MR Pridiyathorn Devakula, chairman of the board at Post Publishing Plc; Suthikiati Chirathivat, chairman of the executive committee; Worachai Bhicharnchitr, director of the executive committee; and Supakorn Vejjajiva, president and chief operating officer.
Post Publishing Plc, publisher of the Bangkok Post, will continue to expand its role as a TV content provider to take advantage of new opportunities from market deregulation and regional integration under the Asean Economic Community (AEC).
Supakorn Vejjajiva, the president and chief operating officer, said each of the company'smainproducts—the Bangkok Post, Post Today and M2F — has strong room for growth thanks to their solid brands, rising economic returns, increase in consumer income and the AEC's imminent launch.
He told shareholders yesterday that the launch of new digital TV licences this year will also bring new opportunities to the broadcasting market.
''But while entry into the market becomes easier, competition will also increase.And it's uncertain to what extent advertising revenue will grow,'' said Mr Supakorn.
''Also, in terms of licence pricing, the regulatory regime and shareholding structures for bidders, much still remains unclear.''
Mr Supakorn said Post Publishing had ''no plans at the moment'' to bid for a digital TV licence but will instead strengthen its position as a content provider for news and lifestyle programmes, through both its own satellite TV channel and other channels.
Post Publishing produces Thai language programmes aired on TNN, Channel 5 and NBT Channel 11. Suthikiati Chirathivat, the executive committee chairman, said the company will continue to strengthen its leadership in the print and magazine markets.
Post International Media, the company's magazine arm, recently launched Fast Bikes Thailand to cater to the growing popularity of high-end motorcycles and will follow with the launch of Cycling Plus Thailand and Forbes Thailand by mid-year.
Post International Media, which also publishes Elle, Cleo and Marie Claire, is the largest magazine publisher in the country in terms of revenues at 480 million baht last year.
ChairmanMRPridiyathorn Devakula said Post Publishing is also exploring ways to expand the presence of M2F, the weekday free newspaper launched by the company in late 2011.
M2Fis the largest newspaper in Bangkok, with an audited circulation of 400,000 copies a day.
MR Pridiyathorn said while the worldwide trend for print media is negative, both the Bangkok Post and Post Today remain steady in terms of sales while M2Fhassuccessfully created a new market position altogether and now stands as the ''most read paper in the Bangkok''.
Post Publishing reported pre-tax profits of 168 million baht last year, up by 57% from 2011, for a net profit of 126 million, up by 149%.
Mr Supakorn said profit gains were led by strong growth in advertising revenue across the company's product line.
Revenue for the company rose by 20% to a record 2.41 billion baht last year, with advertising sales revenue up by more than 26% to 1.86 billion.
Shareholders yesterday approved a 50-million-baht final dividend payment for 2012 operations, payable on May 23 with the share register closed on May 9.
The company paid an interim dividend of 30 million baht last year. POST shares closed yesterday on the SET at 7.90 baht, down 10 satang, in trade worth 4.89 million baht.