Tsunami feature wins gold for Post
Thursday April 30, 2015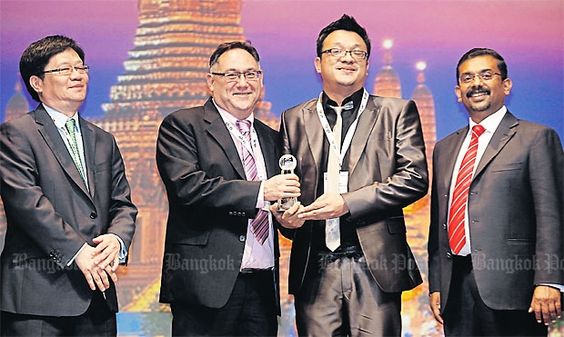 Paul Ruffini, second left, the Bangkok Post's Sunday Editor, and Chaiyot Yongcharoenchai, second right, a Post journalist, receive gold medal for excellence in newspaper feature articles at the WAN-IFRA Asian Media Awards 2015. Pattarapong Chatpattarasill
The Bangkok Post has won one of the most prestigious international awards in print journalism for its coverage of the 10th anniversary of the Asian Tsunami.
The Sunday edition's Spectrum magazine was awarded the gold medal for excellence in newspaper feature articles for "Ten Years Ten People" at the World Association of Newspapers and News Publishers (WAN-IFRA) Asian Media Awards 2015.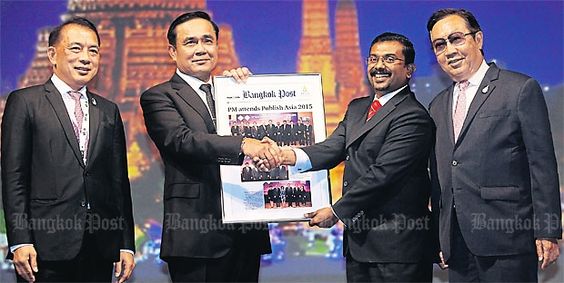 Prime Minister Prayut Chan-o-cha receives a token of appreciation from Thomas Jacob, the Chief Operating Officer of the World Association of Newspapers and News Publishers (WAN-IFRA) after he delivered a welcome speech at the 15th Asian Media Awards Gala Dinner last night. The ceremony was witnessed by Nopparat Maythaveerkulchai, left, President of the Thailand Convention and Exhibition Bureau, and Suthikiati Chirathivat, right, Chairman of Post Publishing Plc. — Pattarapong Chatpattarasill
The feature article section was one of the mostly eagerly contested in its category, with more than 60 nominations from across Asia for the Wednesday evening contest final.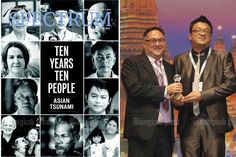 The Bangkok Post Sunday editor Paul Ruffini (left) and journalist Chaiyot Yongcharoenchai celebrate their award at Wednesday's WAN-IFRA Asian Media Awards 2015. (Photo by Pattarapong Chatpattarasill)
"Ten Years Ten People", published in stark black and white, told the story of the 2004 tsunami through key individuals and the subsequent impact the tragedy had on their lives over the next decade.
Pichai Chuensuksawadi, Post Publishing's editor-in-chief and Bangkok Post editor said the award recognised the dedication, talent and hard work of the entire team.
"We are in the business of telling stories, and telling them accurately and well," he said.
"When we get recognition from our international peers it is heartening for all of us at the Bangkok Post to know we are doing our jobs to a world-class standard."
The World Association of Newspapers and News Publishers, is the global organisation of the world's press. It represents more than 18,000 publications, 15,000 online sites and 3,000 companies in more than 120 countries. WAN-IFRA's 15th Asian Media Awards 2015 received 601 entries in over 15 categories from 19 countries and 73 publishers.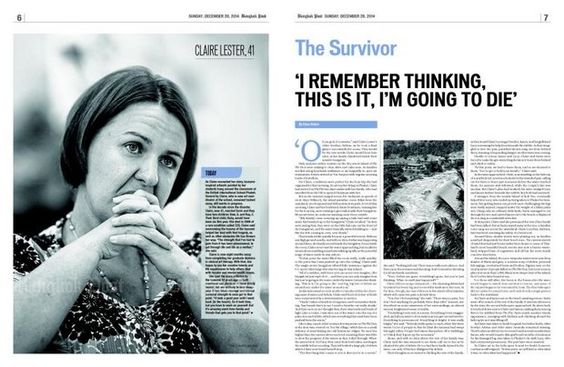 One of the double-page spreads of Spectrum magazine highlighting 10 people caught up in the 2004 Boxing Day tragedy.