OUR EVENTS BUSINESSES
THE POST GROUP CONTINUED ITS FOCUS ON EVENTS THROUGHOUT 2016 BY ORGANISING, SPONSORING, AND CO-SPONSORING VARIOUS MAJOR BUSINESS, FASHION, LIFESTYLE, SPORT AND CHARITY EVENTS. EVENTS CREATE GREATER BRAND AWARENESS OF NEWSPAPERS AND MAGAZINES PUBLISHED BY THE POST GROUP, MAINTAIN POSITIVE RELATIONS WITH CUSTOMERS, AND GENERATE REVENUE FROM ADVERTISEMENTS.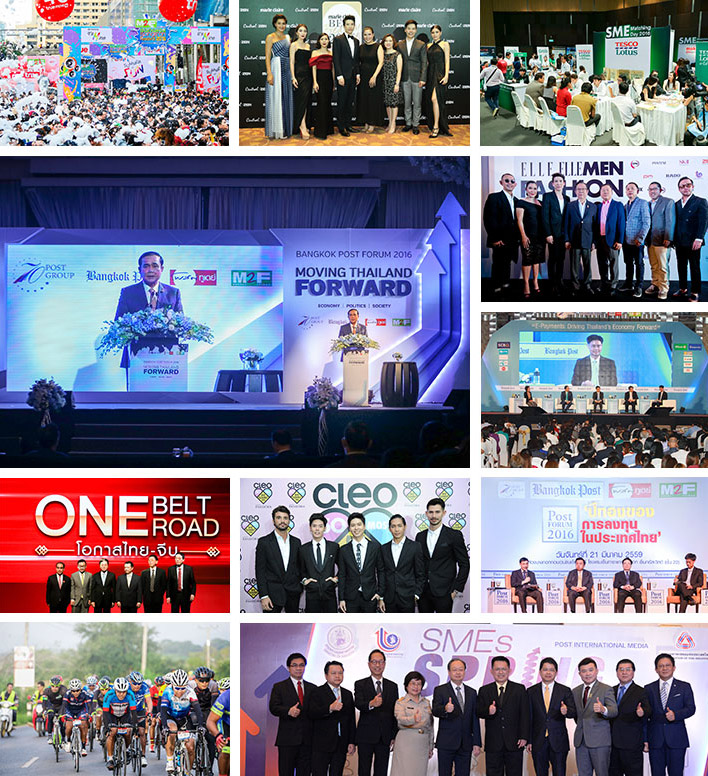 Bangkok Post organised the annual "Bangkok Post Forum" seminar on the topic of "Driving Thailand Forward". The forum was attended by Prime Minister General Prayut Chanocha who delivered a special lecture. Minister of Finance Apisak Tantivorawong gave a keynote address at the seminar on "E-payment to Drive the Thai economy". Other events included the "Bangkok Post International Mini Marathon" and an environmentally conscious "Bangkok Post Fantastic Green Rally".
Events organised by Post Today last year included the annual "Post Forum" seminar, the "One Belt One Road: Thai-Chinese Opportunities" seminar, and a special lecture on government policy on investing in infrastructure projects. The opening ceremony of the special lecture was presided over by Minister of Transport Arkhom Termpittayapaisith, and Chinese Ambassador H.E. Mr. Ning Fu Kui joined the event. Post Today and the Department of Industrial Promotion, Ministry of Industry, collaborated to arrange "SMEs Spring Up" (Year 2) for more than 100 SMEs, with the objective of enhancing their knowledge and helping them to grow sustainably together. At "SME Matching Day 2016: National Business Matching" Post Today joined hands with partners in the public and private sectors to match SMEs with traders and trade representatives. The event was aimed at expanding opportunities to access potential distribution channels in order to stimulate sales. M2F organised: "M2F Bangkok Music Festival 2016", a free concert performed by popular Thai artists; the annual "M2F Bangkok Songkran Festival 2016" celebrating the Songkran festival; the "M2F Cycling Championship, Princess' Cup", and; the Bangkok - Hua Hin rally, "M2F Adventure Rally Olympic World 2016".
Events held by Post Group magazines in 2016 included Cycling Plus Thailand's "Drive to Ride by Cheep Phachon Long Lo @ Phetchaburi", to promote tourism and tourist sites in Phetchaburi province, and "CLEO Lady Runner", a vertical race up 40 storeys of a building for ladies. Cleo continued its famous annual "The Cleo 50 Most Eligible Bachelors 2016". ElleMen organised "ElleMen Fashion Week Fall/Winter 2016", an annual fashion event, and Elle Decoration Thailand celebrated its 20th anniversary with "Elle Decoration The A List Design" and an exhibition showcasing masterpieces by 30 designers. Forbes Thailand organised the annual "Forum Thailand Forum 2016: The Next Tycoons".
Updated: End of 2016